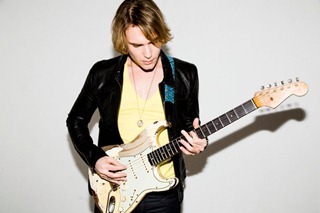 To me, vibrato has always been one of the most important and distinguishing signatures of all of my favorite guitarists.
It's like a signature, a fingerprint, a unique pulse, which is always rooted & connected to the heartbeat of the player. Mark Knopfler, Brian May, Jeff Healey, BB King, Stevie Ray Vaughan, Eric Clapton, Albert Collins, Eddie Van Halen, Bonnie Raitt, Ian Moore, Doyle Bramhall 2, Eric Gales, Jeff Beck, Robert Cray, Carlos Santana, Jimi Hendrix Albert King, Freddie King, and many many more – these are some of the players that have always connected with me because their playing sings like a human voice. So incredibly expressive! Smooth, natural, perfectly balanced and unique, their vibrato adds power, finesse, control, and emotion to their masterful guitar playing. I am often attracted to a player first and foremost by their vibrato before any scale or other techniques. This to me is the color, the spice, the depth and the flavor. I once met BB King and had the opportunity to ask him about his vibrato. He told me that he would close his eyes and try to emulate the sound of slide players on his guitar, but without the slide. He showed me with his hands how he does it…Needless to say, his signature vibrato is unequalled by anyone and makes his playing instantly recognizable.
I love Eric Clapton's vibrato. Although I've seen him use all kinds of different vibrato techniques, this is one that I continue to work on every time I pick up a guitar. The up and down motion creates one of my favorite silky and vocal sounding finger vibratos, and takes an enormous amount of control to execute and not overdo.

Stevie Ray Vaughan had the strongest hands of any guitar player I have ever seen. To have such power, playing strings as heavy as 0.13-0.58, it's impossible to imagine the control and liquid magic he had in his playing. A completely signature and devastating vibrato, with enough power to light up Sao Paulo for 100 nights with just one note! His vibrato is my favorite ever. It's also something I work on every time I pick up my guitar…Just trying to find more control and power like the way Stevie owned those notes.
 
I could go on for days about the vibrato in each of my favorite players.  I am constantly studying. What is most important to me, is finding my own rhythm and my own temperature. I am vibrating in my own unique way, and when I tap into that, along with my influences and experiences in my own life, I intend to put it all together and have it come out sounding and feeling like what's inside me.

 
I hope this is helpful to you and your playing, and you find your vibrato – on your terms, through your own experiences, the way you hear it and feel it inside.
Play on!
Philip
Philip Sayce Official web site : http://www.philipsayce.com