Gustavo Carmo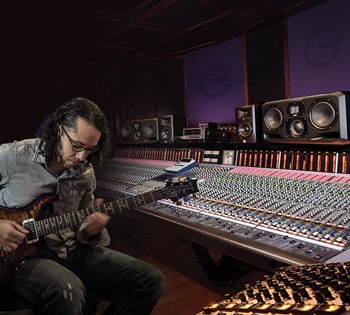 Gustavo Carmo is known for the Metal/Rock/Fusion album "Our Lives, 13 Years Later…" with an ex-drummer of Angra, Aquiles Priester. On that record, Gustavo has proven his skill with conviction alongside guest guitarists like Tony MacAlpine, Vinnie Moore and Greg Howe. He teamed up with Brian Tichy on drum, Rudy Sarzo on bass, and Derek Sherinian on keyboards and released his first solo instrumental EP "On and Off" which has full of shred guitar. We had a chat with the emerging Brazilian Guitarist Gustavo Carmo, who has not only tasteful guitar technics, but also exceptional song-writing abilities, about the brand new EP "On and Off"
Interview / Text  Mamoru Moriyama
Translation         Hiroshi Takakura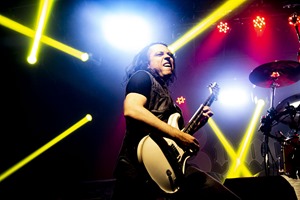 MM : Your first guitar-instrumental EP "On and Off" under your name has been released. Why did you release a 4 track EP instead of a full album?
GC : The original plan for this project was to record 3 live video performances in studio with Brian, Rudy and Derek. COVID made it hard to bring the band and all the personnel required in a single physical location, so a few months in we decided to go for an audio only recording. I had composed 4 tracks to pick 3 for the video performances, but decided to use all 4 in the audio version.
I did not want to wait too much to release new material, and it would take much more time to put together a full-length album.
MM : The EP is filled by striking Rock guitar tracks that have a sort of 80s shredding. What were the aims and concepts for this album?
GC : The main motivation was to exercise an instrumental rock feel mostly driven by guitar. There is naturally a lot of 80s shredding there, since I am heavily influenced by most of the players from that era and movement, but the vision was really to be able to head-bang along, even if the instruments would be going crazy with lots of notes. Melody, harmony, groove and the pulsating excitement of direct rock and roll. Those were the main goals.
Another important aspect is that the compositions were tailored to be accurately represented live. There are no rhythm guitar tracks. It's a single guitar all throughout. Everything we hear is able to be played in a 4-piece band live without any backing tracks. The idea is to approximate the studio canvas to the live canvas and not use any layering that is quite overly used nowadays. When this happens, the live performances either have an automated backing track fulfilling the needed parts, or the music does not translate really well, or many more musicians are needed for an accurate reproduction.
MM : You're a way versatile musician and capable of producing more Jazz/Fusion type of records as well. Have you ever considered making Jazz/Fusion stuff?
GC : Not at this time. I really needed to put out something with a more direct rock shape. I will definitely incorporate more jazz and fusion in the next releases, but at this point, my intuition told me to go for a straighter rock feel and explore the energetic force of the rock pulse. And although all the musicians that played in the record can technically play pretty much anything, when I looked at the combined cast, the rock vibe popped really strong in my heart, so I just went for it.
MM : You teamed up with Brian Tichy on drum, Rudy Sarzo on bass, and Derek Sherinian on keyboards for this project. How did they join force with you?
GC : I have always admired Brian Tichy not only for his playing, which I heard for the first time in the nineties when he played with Pride and Glory, but also for his accomplishments and work drive and attitude. The moment I decided that someday I would try to get in touch and work with him was when I saw him working and playing at the Bonzo Bash. It takes a lot of execution maturity to run an event of such complexity, especially considering the cast that usually takes part.
This day arrived and I sent him a message, and this is where it all started. I kindly asked him to play and help me with the execution of the project, and after discussing the details he suggested working with Rudy and Derek, with whom he had played with before. This is how we all got connected.
MM : Please tell us about the recording process for this record.
GC : It was all done remotely, as one might would have expected for such a process in the middle of a pandemic. I put up a demo with the song structures and a few arrangement ideas, then Brian tracked drums. Next Rudy laid the bass, and Derek came in last. I then reused most of the guitar recordings I had done for the demo and just re-tailored a few parts to have a better conversation with the current state of the other instruments' arrangements.
MM : Please tell us about four tunes on this EP below. Tell us how songs were born, story behind tunes and what kind of message you hope to convey to your audience.
GC : Every song has a sort of bridge between the music and the computer world via their titles.
"Byte Me!"
This is a straight head-banging rock with lots of energy and lots of notes, and with a little bit of prog influences from the middle of the song onwards. I think it has a little bit of a Satriani feel to it.
In this song, I really wanted to convey an uplifting energy and bring smiles. There is a lot of "bite" to the guitar performance, so I thought that the title would make a direct connection to that.
It sprouted from the main riff which is played on the lowest pitch notes, then I crafted variations of that in different parts of the neck with different licks and runs. Then I added a more epic theme to contrast the uplifting mood with some level of seriousness.
"Chain of Responsibility"
I thought a lot about Rush while developing this song. I really wanted a prominent bass theme at the start, and a lot of drum fills which I could have a conversation with.
The main theme also has an uplifting mood to it, but with more epic shapes. This was the first song I imagined a Sherinian solo on, and I wanted it over a more progressive foundation, so Derek could exercise both the rock and the prog language over it. No one better than him for the required versatility.
The ending guitar solo over the main theme's harmony was an invitation for more improvised runs with a lot of chord contouring.
"Clojure"
Clojure is the most introspective and dramatic of all four songs conveyed in a slower tempo, slower notes and a majestic main theme a la Gary Moore. The initial theme is re-introduced a few times within a mesh of lines with a wavy nature, with an exoteric texture.
It depicts the end of a cycle, the closing of a door which opens the next for a new set of experiences.
"Contextual Bandits"
This song is mainly driven by a typical head-banging riff intertwined with more intensely developed harmony sequences full of fiery solos.
It really developed from the main riff, there I wanted a really strong bass and drums pattern to "Locomotive Breath".
MM : Please tell us about your gears. What guitars, amps, effects and pedals did you use for this EP?
GC : The whole EP was recorded with a single guitar, a PRS Custom 24 with a Marshall JCM 900 Head on channel 1 and a Marshall 1960 cab. Then a few outboard delays and flanger were used during mixing. That's it.
MM : Please leave a message to your fans.
GC : I hope everyone reading this interview has a chance to check out this EP and feel the energy I and the special guests put into it. I had great fun doing it, and I am really fond of the team that took part in it.
Stay safe, and rock on with us!!!
Gustavo Carmo Instagram: https://www.instagram.com/_gustavocarmo/
Gustavo Carmo Facebook: https://www.facebook.com/gustavo.carmo.guitar
Gustavo Carmo YouTube: https://www.youtube.com/user/MrGustavoCarmo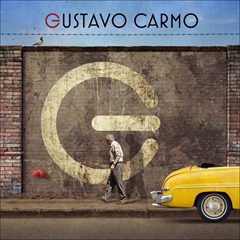 Gustavo Carmo / On and Off
1. Byte Me!
2. Chain of Responsibility
3. Clojure
4. Contextual Bandits
Gustavo Carmo (Guitars)
Special guest: Brian Tichy (Drums)
Special guest: Rudy Sarzo (Bass)
Special guest: Derek Sherinian (Keys)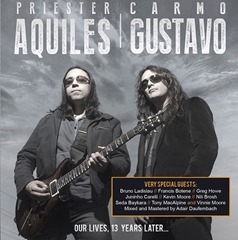 Aquiles Priester | Gustavo Carmo / Our Lives, 13 Years Later…
1. Elevator
2. Dolphin Race [Special Guest: Greg Howe]
3. Carousel
4. Our Lives, 13 Years Later…
5. Titanic: A Night to Remember [Special Guest: Vinnie Moore]
6. The Old Man and the Sea [Special Guest: Tony MacAlpine]
7. Cluttered Inbox [Special Guest: Kevin Moore and Seda Baykara]
8. The Bucket Is Full [Special Guest: Nili Brosh]
BONUS TRACKS:
9. Jubilation / Sunburst
10. PsychOctopus Drum Solo