Randy McStine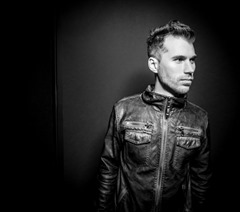 McStine & Minnemann consists of Marco Minneman and Randy McStine. Marco not only is known for a drummer of super-technical band The Aristocrats, but also does drums, guitar, keyboard and production. Randy also is a brilliant multi-instrumentalist, vocalist and producer whose music spans wide spectrum of genres and he formed LO-FI RESISTANCE and Fringe alongside his long solo career from his teenage years.
Their debut album "McStine & Minnemann" exhibits their original style which is rock-based catchy music with some kind of phenomenon and it lures us into their unique world and make us listen to the album over and over again. We had a chat with Randy McStine about their striking new album.
Interview / Text  Mamoru Moriyama
Translation         Hiroshi Takakura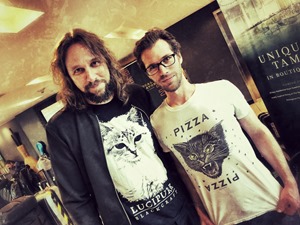 Muse On Muse : Please tell us what made you interested in music in the beginning?
Randy McStine : My Dad had a big collection of CDs, Vinyl, and live concerts on VHS, so there was constant music in the house.
MM : What kind of music and who were your influences? Please tell us the reason why you were fascinated by them.
RM : He was into a lot of guitar-centric, Rock-based music, so I've been drawn to the guitar as long as I can remember. I was born in 1988, but my roots are a concoction of classic Blues, Progressive Rock, and Hard Rock/Metal. My early guitar influences were Gary Moore, Stevie Ray Vaughan, Eric Johnson, Michael Schenker, and so forth, and I also loved bands such as Yes, Jethro Tull, King's X, and a ton of others. The assortment of concert footage I saw as a kid was a huge factor in my interest to play an instrument. Everything looked otherworldly and captivating to me, and I would pick up random things around the house to pretend strumming them!
MM : You are not only an excellent multi-instrumentalist who plays from Guitar to bass to keyboard, but also a singer, a producer and a writer. How did you build such versatile style?
RM : Thank you! My parents gifted me an electric guitar for my 5th birthday, so that has been my "native" instrument ever since. Along the way, my curiosity and general passion for music led me to work at other instruments, with various approaches to style and creativity. Almost all of what I do wasn't learned in an official academic setting, so it's been a lot of personal study and experimentation. Getting out of my comfort zone on a regular basis and taking creative risks has continued to serve me well.
MM : When you decide to have a career as a professional musician? Please tell as your career from the beginning until now.
RM : It was around the age of ten where my proficiency on guitar was really noticeable to my parents. I had been taking guitar lessons for a few years at that point, and my teacher invited me to sit in with his band for a few songs at a public event. That gig basically launched my career, and over the next few years, I became known in town as "prodigy," playing bar gigs in cover bands every weekend with guys who were twice my age. Looking back, it was an incredible training ground for so many aspects of my life.
From there, I started writing instrumental songs in the vein of Joe Satriani or Jeff Beck, and recorded a couple of solo albums between the ages of 12 and 14. By age 15, my Dad was strongly encouraging me to take vocal lessons. Despite playing hundreds of gigs by that point, I was a shy kid and it took a lot convincing for me to sing. Of course, he was absolutely right, and I'm thankful now for the push in that direction.
The big shift in my career would probably be the conception of my solo project, Lo-Fi Resistance. By 2009, I was a bit frustrated and uncertain about where my career was. Ten years into writing and performing, and some brushes with the inevitable business side of making music left me feeling a bit aimless. However, I started putting together a workable home studio in my apartment, and the music I was writing was unlike anything I had attempted previously. I was playing all of the instruments until one day I decided to write to Nick D'Virgilio about hiring him to play on a song. Making that connection sparked a new focus and confidence within me, and I've been on this interesting journey ever since.
MM : Please tell us the debut album of McStine & Minnemann. You and Marco Minnemann have worked together in the Progressive Rock band "In Continuum". What led up to you and Marco to launch a project and make an album as McStine & Minnemann?
RM : We officially met for the first time in a rehearsal room for a couple of In Continuum gigs in October 2018. Although we appeared together throughout the studio album, our parts were recorded remotely, and I really had no expectation of making a personal connection at that point. Thankfully, Dave Kerzner asked both of us to do the live gigs, and once Marco and I started playing and hanging out together, there was a very clear chemistry.
A few months later, I reached out to Marco to play on a song of mine called "Bottom Feeder Blues." He hadn't heard my writing or singing before, and he really connected with my approach, so he then invited me to play and sing on his solo album, My Sister. Those back and forth contributions were the start of realizing what kind of collaborative potential we might have, and the idea to try a duo approach popped into my head in October 2019. We started sending ideas to each other, and it was obvious to both of us that we had something worth exploring.
MM : How were writing and production process for this album?
RM : We live on opposite coasts, but we both have efficient home studios at this point, so the entire album was recorded remotely. Our communication and ideas were constantly flowing, and it was something we both enjoyed working on. Most of the album consists of songs that were written individually, but we both left a lot of space for each other to encourage new, collaborative ideas. A song like "Falling From Grace" for instance, was already a full production when Marco sent it to me, but I dug into it pretty deep to rewrite a majority of the vocal melodies, new guitar parts, etc, so that became a co-write in the end.
MM : What was the recording process after writing?
RM : The writing and recording process go hand in hand for us, because we are both used to making solo records where we handle all aspects of the production. I've learned that it's always good to capture great performances in the "demo" phase, because there is a lot of passion and excitement that pours out during the birth of the song. We had to break from the album during November and December, as we were both on tour at the time, but I jumped back into it at the beginning of the year, and the tracking was done heading into March.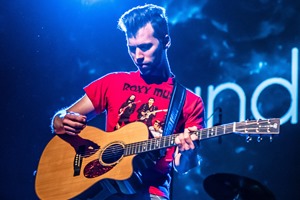 MM : When I listened to your album, I felt like Rock and other styles were effectively merged into your original style on every tune on the album.
RM : Thank you!
MM : The visual art of the music video of "Program" suits the vibe of the tune very well.
RM : Christian Rios did the music video, and it was his concept based on his reading of the lyrics, matched with the frenetic pace of the song. I originally recorded it for a Lo-Fi Resistance album called "The Age Of Entitlement." It was a strange little album that went largely unnoticed in 2013, and for my fans up to that point, it wasn't an expected musical direction. However, that album was incredibly important for me to make at the time, as it was a period of discovery. The original version of "Fly" comes from that album, too. Those were true DIY productions, and when Marco and I were discussing our love of artists like Public Image Ltd and Tubeway Army, it inspired me to go back to those songs for our album. I think we've given those songs the treatment they deserved all along, and it's really nice to see that they are both among fan favorites so far.
MM : Two talented musicians, Marco and you, displayed simple and catchy music on "Your Offenses" and the tune sounds very strong with your great guitar solo.
RM : That was one I had sitting around for a while, and I brought it to the table knowing that Marco would have the perfect energy to drive it. Its simplicity is a bit deceptive, which is great to me, because it can function on different levels of listening. It can be listened to as a fun, Pop/Rock tune with some familiar elements, but it's a demanding piece to play, and the complexities are there upon further study.
MM : The experimental track "Catrina" has beauty and tense simultaneously and it lures us into and hold our attention.
RM : That is one of Marco's contributions, and also a favorite of mine. It's a very cinematic piece, and also one of the most diverse songs I've ever been a part of in terms of the various approaches I was able to take for vocals, guitar, and bass. Perhaps more than any other song on the record, I think we spent the most time getting the arrangement right for this one, because it's a very delicate balance of elements. It goes to some extreme places in dynamics, space, and emotion. When he brought it in, it took me a while to "get it," but when I came around to hearing myself in it, I really connected with it in a deep way. Our mix engineer, Forrester Savell, did an amazing job on the whole record, but this song in particular has a lot of ear candy in the production.
MM : Groovy sounds of guitar and bass, your soulful vocal and guitar solo can be heard on "Activate"
RM : Similar to "Your Offenses" and "Top of the Bucket," this one was written with a Rock power trio aesthetic in mind. There are more obvious trio influences like The Police or Rush, but also King's X, who I mentioned earlier, and more obscure influences like the band, Trapeze, which was Glenn Hughes' band before he joined Deep Purple. I love all of that stuff, and was listening to a lot of '70s rock records for inspiration when it came time to focus on tracking my parts for the album. I was struck by how much space all of the recordings had back then, too. So, "Activate" is one of the more stripped-down songs on the record, yet also one of the bigger-sounding ones because everything has room to breathe.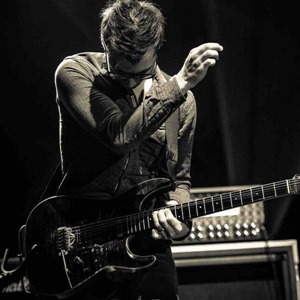 MM : Harry Waters is credited on "The Closer" which has a beautiful piano sound. Is he a son of Pink Floyd's Roger Waters? What is the story behind this collaboration?
RM : Yes, he is! Harry and I met at a music festival called Cruise To The Edge. For those who aren't familiar, Cruise To The Edge is a Progressive Rock festival that takes place on a cruise ship over 4-5 days. We actually played some Pink Floyd songs together as a part of a large ensemble, but he was also there with his own duo called McNally Waters. McNally Waters was about as far away from Prog Rock as it gets, and I loved everything about it. Haha! They were doing this very soulful, swampy sort of Roots/ Americana thing, and not a wasted note to be found. We hit it off, and actually were in conversations for a while about bringing me into their expanded live band for some dates, but we haven't been able to make it happen yet.
Anyway, "The Closer" was the last piece for the album, and actually has an interesting backstory in itself. Marco and Alex Lifeson have collaborated on some songs, and Marco sent me one of them along with the song that I ended up contributing for Marco's solo album. That was April 2019. January came along and dealt us the crushing news that Neil Peart was gone. I was gutted, and listened to Rush for practically a month straight. During all that, I suddenly remembered a short passage from the Marco and Alex song, and felt inspired to write new lyrics and music around the bit. We had all of the other songs, along with a couple that didn't make the album, but I felt we needed a song to give listeners a reprieve from everything else on the record. I presented it to Marco and he was very surprised and happy to hear how I went back to that song. As it turned out, the little bit that sparked the whole thing was a chorus that Marco wrote, so it's the only song in his catalog that he has co-written, but doesn't play on. My piano sketch was too basic for where I wanted it to go, so I asked Harry to play on it.
MM : Please tell us your gears. What guitars, amps, pedals and other equipment do you use for production?
RM : My guitar collection is quite small actually, but I have a few "standards" – A couple of Telecasters, Stratocasters, a Gibson Les Paul. I'm more of a pedal geek at this point, as I have a deep interest in sound design and unconventional guitar sounds. There's a lot of experimental guitar sounds throughout the record that don't necessarily register as guitars, but they add to the ambience. So, I have an assortment of pedals for what you might call "classic" sounds, and then a bunch of pedals to get freaky with. Haha! My living space doesn't allow me to blast guitar amps most of the time, so I used different amp plug-ins from Universal Audio across the record.
MM : Please leave a message to your fans.
RM : The McStine & Minnemann record is something that I think a lot of people will find great joy in if they spend some time digging into it. If you like it, tell people about it! We want to get out there and play live when it's possible to do it, but it starts with awareness. Please stay safe and well, and thank you for listening!
McStine & Minnemann bandcamp  https://mcstineminnemann.bandcamp.com/
Randy McStein official site  https://www.randymcstine.com/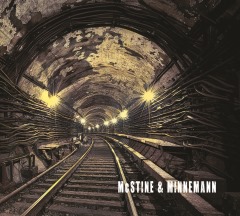 McStine & Minnemann
01. Program
02. Falling From Grace
03. Your Offenses
04. Catrina
05. Top Of The Bucket
06. Tear The Walls Down (No Memories)
07.  Fly
08. Activate
09. The Closer
10.  Voyager