Mattias IA Eklundh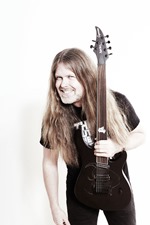 Photo by Patric Ullaeus
Freak Kitchen is back with their latest studio album "Cooking With Pagans", 5 years from their previous "Land of the Freaks". The new album features all the trademarks of Freak Kitchen including hard and heavy grooves with catchy vocal lines, mixed with Mattias IA Eklundh's unique guitar performances filled with great technique and sense. The album definitely lives up to the expectations of the Freak Kitchen fans. The new album's artwork and music video has been created by Juanjo Guarnido, known for his animation works with Disney. Juanjo Guarnido successfully captures a dynamic image of Freak Kitchen expressed in the form of animation in their video. MUSE ON MUSE asked Mattias IA Eklundh of Freak Kitchen about the new album, as well as other topics including their collaboration with Juanjo Guarnido.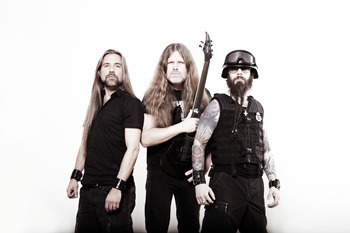 Photo by Patric Ullaeus
Interview / Text Mamoru Moriyama
Translation Louis Sesto (EAGLETAIL MUSIC)
Muse On Muse : The new album "Cooking with Pagans" is your first release with FREAK KITCHEN since "Land Of The Freaks" released in 2009. How do you feel now after releasing the new FREAK KITCHEN album?
Mattias IA Eklundh : Yeah, it's been a while since Land of the Freaks, that's for sure. But we are tremendously happy with Cooking with Pagans and I truly hope you dig it as much as we do.
MM : What's the concept behind this new album?
IA : No real, concept. Only twelve good songs that together build a homogeneous vibe, a red line. The songs are very much about the world we live in today.
MM : Juanjo Guarnido, who does Disney animations, did the artwork for the album. How and why did you have him do the artwork?
IA : Juanjo, without my knowledge, has been a long time Freak Kitchen fan. In February 2013 he wrote me an e-mail, telling me about his work with everything from Disney to his character Blacksad. When I received a FedEx package with loads of his books and goodies I was completely flabbergasted and immediately asked him to draw our album cover. Chris, our bass player, was a big fan of Juanjo's work from before and simply couldn't believe this was happening. We are very grateful about the entire journey together.
MM : What's the meaning behind the cover artwork? The artwork does seem to be quite provocative.
IA : I always had the idea of the band with our heads chopped off, the cows taking over. I am not sure why I found this appealing, haha. No other than Juanjo could have done it justice though. I love his style and adore the artwork. Easily the best cover of our career.
MM : How was the songwriting and recording process done for this album?
IA : I never have any precise method when I compose. I merely noodle around on my guitar and after hours of playing new ideas usually pop up. Every song is different. The recording was quite smooth and easy. The reason it took time was due to travels, completing Freak Guitar – The Smorgasbord, recording with my friend Jonas Hellborg and The Jazz Raj album and more. The next one won't take that long. It's a promise. The music was recorded in my studio and later mixed in Copenhagen during a day and a half.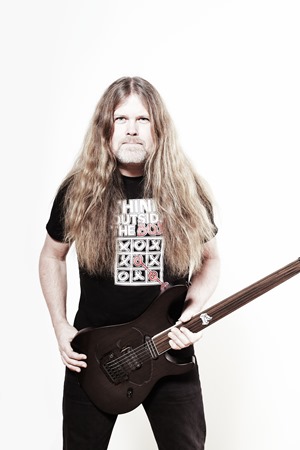 Photo by Patric Ullaeus
MM : When you make demos during the songwriting process, how complete is the material? Do you include completely thought out drum and bass parts in the demo as well? Or are they just simple song ideas?
IA : I never make demos. I consider it a waste of time. I know what I want to do and will work on the tunes until I am happy with them. I stopped making demos after Spanking Hour, the second album. Why record everything twice? It is just energy consuming and very often the demos are better than the end result so why not get it right the first time?
MM : The songs on this album seem to have a lot of details to them. You find some new part or phrase each time you listen to the songs. Do you take particular care into creating these little details?
IA : That's what producing is, finding the way to dress up a song in a certain way. It takes time to dig out the right personality of each track, how make the most out of it. I love the process although it is slippery at times.
MM : The new album definitely portrays a great mixture of FREAK KITCHEN trademarks such as technical performances in hard and heavy style music, along with listener friendly melodic vocal lines.
IA : Thank you. We do our best to make every album as good as we can.
MM : Many of the songs such as "Freak of the Week" and "Mathematics of Defeat" have a very cool progression with the melodies in the chorus. Many of the songs you write have a surprise waiting at the chorus, making it very interesting for the listener. What's your personal perspective on this method of writing?
IA : I am sucker for melodies. You can be very aggressive yet sing with a potent melody instead of growling some inaudible noise. You do what you do and with the new record I think we got lots of it right.
MM : The phrase: Slop-py-py-py-py-py-py-py-py! Sloppy! on the song "Sloppy" sounds like a very typical Freak Kitchen idea and seems to stick to your ears after listening to it. How did you come up with this interesting idea of combining a particular word with a certain rhythm?
IA : Haha, it started with my fascination of Indian music and this one in particular old Bollywood music that keep cracking me up. At first it felt a little corny but then it grew on me.
MM : Some of your lyrics are ironies of social and daily issues. Is "(Saving Up For An) Anal Bleach" an irony for Internet addiction?
IA : It is about life itself and where we are with humanity today. I see a lot of things that I find ridiculous and screwed up so I decide to analyze this. It's a way to deal with it. In many ways reality is much more "out there" than what I can come up with my lyrics. People say I do exaggerate at times but… I am always stunned by the slight insanity surrounding us. I live in the woods with my family and animals and it keeps me sane on weird planet.
MM : "Come Back to Comeback" is about bands doing reunions. What is your personal thought on the current music industry?
IA : I am in the midst of show business with all its ugliness but I don't feel I am part of it. I work, play and… get out. All these ridiculous reunion tours, farewell tours, then another reunion tour. If you are going to quit – quit! Call it a day. Stop. Go fishing.
MM : "Hide" is a ballad that features a very beautiful melody along with some guitar tapping. "Ranks of the Terrified" also features some impressive tapping techniques in the intro that seems to add color to the song very effectively.
IA : Thank you. I am a tapping freak and tend to think that a lot of players see tapping as a waterfall of notes whereas I use it in a very rhythmic way.
MM : All of your guitar solos have a great balance between technical aspects and melodic aspects. Do you actually plan out the solos? Or are they improvised? Tell us about your approach to constructing guitar solos.
IA : I always improvise. Never any planning. What I do is I record the solo a couple of times then listen back to see what was good and what was bad, if there was a melody that could be used or a rhythmic structure. Then I might punch in to repair something or figure out "bridges" to tie part of the solo together. It's pretty different every time, to be frank.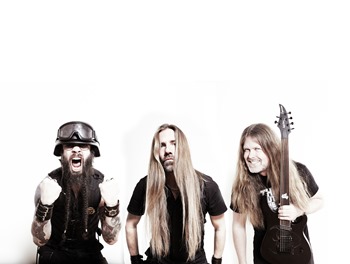 [Freak Kitchen : L to R] Christer Ortefors (b,vo), Bjorn Fryklund (dr), Mattias IA Eklundh (vo,g)
Photo by Patric Ullaeus
MM : Please tell us in your own words about each song on the album. Tell us how the song was made and/or if there are any special meanings behind it, etc.
IA :
"Professional Help"
My favorite track of the record. It's so simple but it really works. I am screaming my lungs off in the chorus and I tell you, there was blood running from my mouth, sore vocal cords, when I recorded it. The tune was written very quickly in a Australian hotel room.
"Freak of the Week"
Another favorite track and now the most amazing video by Juanjo Guarnido and his team. We are all so grateful this happened and the upcoming book about the video is almost as stunning as the video, going really in depth about the entire process. The song has a lot of sneaky things built in; India raga tonality, odd time structures, counter point and more, but basically it is a freaky pop song.
"Sloppy"
Basic AC/DC rock, tuned down, with a bit of, again, Indian twist. I really like our groove here, very hard to get right but… we got it right!
"Goody Goody"
We simply had to record this one, a tune from 1936, as we have been shouting Goody Goody from stage for the past twelve years (don't ask me why, it just works). I am quite happy with the result.
"(Saving Up For An) Anal Bleach"
Most likely the most brutal song on the record, from a lyrical point of view, dealing with terrible things. People tend to think Freak Kitchen is a "funny band" whereas I see humor as weapon to deal with difficult topics. The rhythm is all Indian… again.
"Private Property"
Chris wrote this while I arranged it and he is doing a lovely job. It has a punk pop vibe to it that I adore and it great fun to play as well. The solo part didn't work at first so I had to take it apart, tune down my guitar to B and go crazy… and then it made sense!
"Mathematics of Defeat"
Another song based on both Indian music (the rhythm is very Carnatic, South Indian) and contemporary tonality (the verse is all symmetric). The chorus on the other hand is totally pop influenced and quite a relief. Bjorn is doing a killer solo over the Indian reduction part of the track.
"I Don't Want to Golf"
I saw this one pretty much as a filler on the album but the kids seem to dig it a lot, judging from playlists. The chorus melody is utterly stolen from Look Bored from Organic (there's a phrase only sung once that I thought was too good not to use more, hehe).
"Hide"
The most soft song but again with lyrics dealing with every day life and the white noise surrounding us 24/7. I like it.
"Come Back to Comeback"
Meat and potatoes kind of rock. No bullshit. There's something with the guitar sound on this one that really appeals to me. Not sure what since it is the same setting as on the rest of music, but… it works.
"Ranks of the Terrified"
Tapping, tapping, tapping! An old lick that has been waiting a long time to make it into a song but now, finally, found its place. We played it live for the first time last Saturday during our world tour premiere and it worked kick ass!
"Once Upon a Time in Scandinavistan"
This is one is puzzling a lot of people and I don't blame them because unless you have read the book with the same name by my good friend Zac O'Yeah it makes no sense at all. I am quite glad over the fretless outro solo, with its Indian feel to it. Playing fretless is scary and you realize how much you suck… but a good lesson learned.
MM : Lately we see many artists releasing their new albums not only as CDs and downloads, but also as vinyl. Did you have any ideas of releasing your new album on vinyl? High Resolution downloads also seem to be the trend, but tell us your perspective on vinyl.
IA : We are doing vinyl for sure. It is soon in production and will be available before Christmas. Can't wait to sink my teeth into it. Looks great and the sound is tiptop.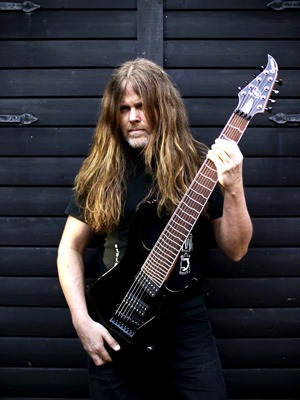 Photo by Patric Ullaeus
MM : Did you use your Caparison Signature Guitar and Laney Amp for this recording too? There's a picture of you holding a fretless guitar in the album booklet.
IA : Yes, it is a 100% Laney Ironheart 120W + 2X12 speaker and every guitar is any one of my Caparison Apple Horns. I don't use anything else. I don't need anything else actually. I love my fretless Apple Horn Jazz.
MM : You're also using an 8-string guitar now. Why did you decide to make an 8-string? How is it actually playing an 8-string?
IA : I will bring my Apple Horn 8 to Japan in December. It is a true beast and I adore it. It's the best instrument I have ever laid my hands on. The experience is very, very different from playing a 6-string. I was never into 7-string, it didn't make any sense to me. But 8-string makes perfect sense and I tune it, low to high, E, A, E, A, D, G, B, E. A fabulous guitar.
MM : You're scheduled to do a guitar clinic in Japan this coming December. Tell us what we can expect to see at the clinic.
IA : I will play loads of stuff with my Apple Horn 8, from my Freak Guitar albums as well as stuff from my Freak Guitar Camps and more.
MM : Please give the Japanese fans a message.
IA : I am most grateful for your true support over the years. You can expect much more freaky music in the future. I am merely getting warmed up. Hope to see you in December. Take care.
Freak Kitchen official site : http://www.freakkitchen.com/
Mattias IA Eklundh official site : http://www.freakguitar.com/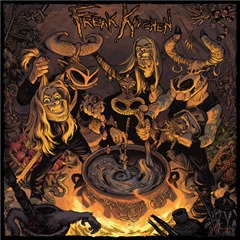 Freak Kitchen / Cooking With Pagans
1.Professional Help
2.Freak of the Week
3.Sloppy
4.Goody Goody
5.(Saving up for an) Anal Bleach
6.Private Property
7.Mathematics of Defeat
8.I don't want to Golf
9.Hide
10.Come back to Comeback
11.Ranks of the terrified
12.Once upon a time in Scandinavistan